JUSE-StatWorks/V4.0
The newest version JUSE-StatWorks/V5E will be released in autumn this year.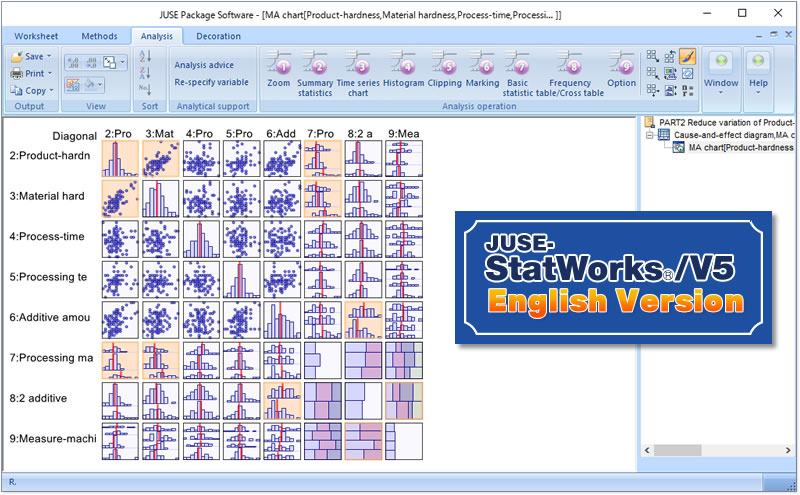 JUSE-StatWorks was developed in Japan by the Institute of JUSE (Japanese Union of Scientists and Engineers) and has become the best-known standard statistical analysis tools.
---
This is the renewed software of its Japanese version and this software is for companies, which has offices around the world.
---
Providing a comprehensive suite of statistical analysis tools to help you improve business processes, efficiently and systematically.
JUSE-StatWorks/V4.0E enables you to take on ...
IATF16949:2016, Six Sigma, QC 7 Tools, operations management, design of experiments, and much more.
Quality Control is a vehicle for the Total Quality Management (TQM) that is a high priority issue of companies in Japan as well as around the world. As you know, statistical methods play a very important role in TQM. "Quality Control Assisting System" is powerful software that has been supporting statistical methods for Quality Control since its first release in 1985.
* The Sale of "JUSE-StatWorks/V4.0E Quality Management" has ended. If you want to use statistical methods for Quality Control, please purchase "JUSE-StatWorks/V4.0E Quality Management Premium".
---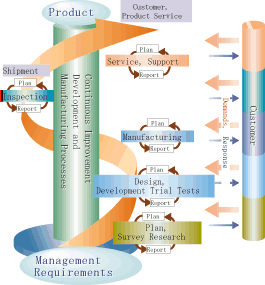 Today, the business environment is becoming increasingly complex. Enterprises around the world, regardless of type and size, are facing compelling challenges--accelerating decision making processes, enhancing management efficiency, and improving quality of products and services.
JUSE-StatWorks/V4.0E is specifically designed to help meet these challenges. It enables you to quickly extract useful information from massive amounts of data, and to improve your problem-solving capabilities. JUSE-StatWorks/V4.0E helps you navigate through the entire business development process, from planning, procurement, design development, manufacturing control, customer support, to marketing. JUSE-StatWorks/V4.0E has already gained wide acceptance in the market place.
With this software release, usability has been significantly improved:
_ New comprehensive support has been provided for IATF16949:2016*1 statistical analysis and Six Sigma*2 requirements, and
_ Language information processing has been added. JUSE-StatWorks/V4.0E is well suited for use throughout your organization. Try it in your company too.
*1

IATF16949:2016 are the quality system requirements of the American automobile industry and are recommended for applying to statistical techniques, such as design control, process control, and inspections and testing.

*2

Six Sigma is a management method proposed and implemented by European and US companies, such as GE and Motorola, and is widely used in statistical techniques as a tool for improving quality control, management, and service.
The main functions for JUSE-StatWorks/V4.0 E
Note: These are identical to the Japanese version of JUSE-StatWorks/V4.0.
System characteristics
1. Enables you to create focused, refined statistical analysis reports
From the input of collected data through analysis and forecast, JUSE-StatWorks/V4.0E helps you navigate the labyrinth of statistical data and create reports or presentations that tell a clear and convincing story. Experience its power in every phase of your workflow, including data management, process management and document management.
2. Provides a user-friendly GUI
With its new toolbar buttons, online help, status bar display and shortcut menu, JUSE-StatWorks/V4.0E is a breeze to use, enabling you to concentrate on your core tasks. Create your own preferred analysis environment using its easy-to-customize graph/chart attributes, and print preview settings.
3. Handles more data and makes effective use of data resources
Handles more data and makes effective use of data resources JUSE-StatWorks/V4.0E can now handle up to 256 variables (each of which contains up to 24 categories) x 32,768 samples. Since it is fully backwards compatible, you can effectively re-use your accumulated data resources. It also allows you to export statistical analysis data not only text but also graphical elements such as charts and graphs for use with other application such as word processors, spreadsheets and browsers.
4. Covers QC and operational management tasks as well
JUSE-StatWorks/V4.0E is also a powerful tool in QC-must areas such as stratified analysis, outlaying data detection, search condition setting as well as setting of standard/allotment/output-threshold values. It also enables you to effectively manage operational management tasks such as processing of daily or monthly operational data tabulations.
5. Complies with courses offered by the Institute of Japanese Union of Scientists & Engineers
JUSE-StatWorks/V4.0E is used widely for education in universities, public research institutions, and business training courses. It supports a wide range of applications, from training to data analysis, operations execution, and scientific reports.
6. Helps company-wide standardization
PC license version is also available. That is an ideal tool to assist your company-wide standardization efforts. It enables you to unify statistical analysis operations throughout your organization, making true company- wide information sharing a reality.
---
Quality control
JUSE-StatWorks/V4.0E provides a wide selection of quality improvement tools and analysis techniques that can be used by anyone. These include goal selection, data collection, factor identification, cause pursuit, design of experiment and analysis, forecasting, improvement effect measurement, continuous control, and report creation. IATF16949:2016 are the quality system requirements of the American automobile.
Presentation support
JUSE-StatWorks/V4.0E displays analysis results in easy-to-view tables and graphs in order to accurately convey presentation targets, existing causes, improvement results, etc. Currently, report processing, scales, and property conversion can be conducted. In addition, information from word processors and spreadsheets can be added for easy editing.
JUSE-StatWorks/V4.0E offers solutions tailored to your work requirements.
The roles of statistical analysis as a method for improving management quality is becoming ever more important, and such techniques are finding application in a broadening range of fields. Statistical analysis aids the pursuit of quality improvements in business processes in such fields as
product planning and design,
basic research, design, and technological development,
production preparation and manufacturing process control,
management and work control, and
staff training and technical-skills development.
JUSE-StatWorks/V4.0E provides a single, comprehensive, statistical analysis solution to meet the needs of a new age in operation management and marketing. It enables you to perform all sorts of analyses including those based on the conventional SQC techniques as well as quantitative information and language data techniques.
Introduction companies
"JUSE-StatWorks/V 4.0E" is used in the overseas factory of the manufacturing industry company (a car, a machine).
Honda Motor Co., Ltd. / SCG Building Materials Co., Ltd. / AISIN SEIKI Co., Ltd. / TOYODA GOSEI Co., Ltd. / DENSO CORPORATION / Panasonic Corporation / Mitsui Chemicals, Inc. / etc.
Development Committee
The software components included in this has been developed by an experienced and knowledgeable development staff under the direction of a committee composed of leading figures in the Japanese quality control field.
Development Committee Chairperson
| | |
| --- | --- |
| Masahiko Munechika | Waseda University |
Committee Member
Tadashi Ofuji
Tamagawa University
Masao Okuhara
Tokyo University of Science, Suwa
Tetsuro Seki
Bunkyo University
Masahiro Nozawa
Tokyo University of Science
Shu Yamada
University of Tsukuba
Defunct
Yutaka Ikeyama

KOSE Corporation
System Requirements
Standalone Version
OS

Windows7,VISTA,XP

CPU

PentiumIII or above

Memory

256MB or more

HDD

130MB or more

Device

CD-ROM
* For pricing and volume discount details, please contact your local i-JUSE dealer. Detailed information is also available at our web site.
* Customers in countries that are not currently covered by the i-JUSE dealer network may place order directly to us. Please note that shipping & handling charge and tax will be added to the product price for shipping outside Japan.
Notice for installation of JUSE-StatWorks/V4.0 E
Since the structure and product specifications of the English version of JUSE-StatWorks are basically the same as those of the Japanese version, the users of the later will be able to use the former from the first day of its installation without difficulty.
Contents of JUSE-StatWorks product
CD-ROM
Manuals are written in English
The Japanese manuals and case study books are also available. Please ask us about those prices.
Pricing
Regular prices of JUSE-StatWorks/V4.0E for Windows are as follows.
They are Single-user prices and before-tax prices which don't include the tax, tariff, and fees.
Note:

If you purchase the product(s) in Japan, the consumption tax will be added on the price(s) listed above.
If you order from outside Japan or want to have the product(s) shipped outside Japan, you must pay the additional charge for shipping to your desired location.
The payment for the product(s) should be maid only in Yen.
Product
Base price (Before-tax price)
JUSE-StatWorks/V4.0E Quality Management Premium
Yen 128,000
JUSE-StatWorks/V4.0E Quality Control 7 Basic Tools
Yen 58,000
[Volume discount] JUSE-StatWorks/V4.0E Quality Management Premium (5set)
Yen 500,000
[Volume discount] JUSE-StatWorks/V4.0E Quality Management Premium (10set)
Yen 900,000
[Volume discount] JUSE-StatWorks/V4.0E Quality Control 7 Basic Tools(5set)
Yen 232,000
[Volume discount] JUSE-StatWorks/V4.0E Quality Control 7 Basic Tools(10set)
Yen 400,000
[Upgrade] From JUSE-StatWorks/V4.0E Quality Management to
JUSE-StatWorks/V4.0E Quality Management Premium
Yen 68,000
* 5(10) set consist of one set of manuals, one CD-ROM and 5(10) license certificates.
* For additional information about the prices for the sets not listed above, please contact us.
Trial
If you would like to trial JUSE-StatWorks/V4.0 E, please fill in this paper and please send FAX to I.O.JUSE.